A SIGNAL FOR SAFE FLYING
Just like all Stratus products, our transponders were designed to be some of the most cost-effective, easily-installed certified avionics available for general aviation. Check out the options below to find the best solution for your airplane.
Stratus ES
GPS Source – Navigator Input

Certified ADS-B Out

2020 Compliance

Portable Connect™️
Stratus ESG
Built-in WAAS GPS

Certified ADS-B Out

2020 Compliance

Portable Connect™️
STRATUS ESG
Stratus ESG was designed with non-glass panel aircraft in mind. Our simplified solution includes a 1090 ES transponder and certified WAAS GPS in the same box. It's truly an all-in-one box solution for 2020 compliance.
STRATUS ES
Stratus ES was built without GPS in order to provide affordable ADS-B Out to aircraft owners who have already invested in WAAS GPS. Stratus ES will make an aircraft rule-compliant when paired with any of the following navigators:
Garmin GPS 400W, GNC 420W/420 AW, and GNS 430W/430AW
Garmin GPS GNS 480 (CNX80)
Garmin GPS 500W and GNS 530W/530AW/530TAWS
Garmin 6XX and 7XX
Garmin GPS175
Avidyne IFD440 and IFD540
STRATUS H-VARIANTS
Stratus transponders are approved for installation in Part 27 aircraft. The H-variant models, named Stratus ES-H and Stratus ESG-H, are available through an authorized Appareo dealer.
The STC-AML includes Airbus Helicopters, Bell Helicopter, Leonardo, and Robinson Helicopter. 
SIMPLE INSTALLATION
Designed with the common 1.65″ tall form factor, Stratus transponders easily replace your existing transponder. Here's what to consider for install time:
Replace old transponder in panel.
Reuse existing transponder antenna.
Reuse existing altitude encoder.
(Stratus ES) – Connect to existing navigator.
(Stratus ESG) – Install GPS antenna (included in kit).
5-Year Warranty
Appareo offers an industry-leading 5-year warranty on all certified Stratus transponders.
Plug into the ultimate ADS-B experience
With its exclusive Portable Connect™ ADS-B antenna feed, Stratus transponders can share an external antenna signal with your Stratus portable receiver to maximize the signal strength. Pick up more ADS-B ground stations- even at lower altitudes.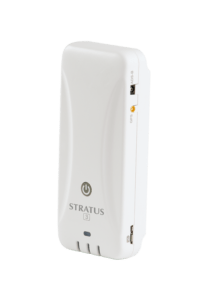 Add ADS-B In
Both Stratus transponders are available in a kit that includes an ADS-B In receiver (Stratus 3i). Stratus 3i was designed to stay plugged into the transponder and tucked behind the panel to benefit from external antenna signals and aircraft power.
If you already own a portable Stratus receiver, there's an interface kit available to connect your receiver with the Stratus transponder. Enjoy an unobstructed view and mount your Stratus receiver anywhere in the aircraft.